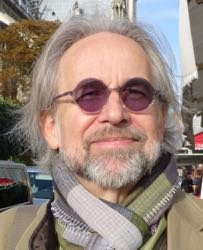 Hi. I'm Dave Katz, creator of KitchenSavvy, which combines my life-long passion for food and cooking, my science background, and my analytical skills in research and writing, to answer questions about the "how" and "why" of cooking.
KitchenSavvy has answers to readers' food and cooking questions, opinion pieces, reviews, recommendations, and recipes.
It all started at a young age, when my mother decided that all of her sons would need to fend for themselves at least sometimes, so she taught us all the basics of cooking. When I was maybe 14 or 15 years old, Mom started offering cooking classes. My older brother and I were "lab assistants" and also helped with kitchen prep behind the scenes. Mom was a very talented and diverse cook. As she would describe herself, "I cook in 27 different languages."
My father was founding director of the Linear Accelerator Laboratory and head of the Physics Department at the University of Saskatchewan, Canada. While he was a lover of the arts and connoisseur of good food, Dad also believed in the doctrines of science and knowledge. If, around the dinner table, one of my siblings or I claimed some detail, or stated an opinion, we would be expected to back it up with facts, figures and sources. Questions almost always led to exploration and discovery. Curiosity was encouraged. Rigor was expected.
So, these were the early forces behind my interest in what actually happens in the kitchen – an amazing cook and cooking teacher, and a world-class scientist.
My interest and abilities in cooking became stronger when I went to university, myself. I soon learned that being able to cook was a prized skill among roommates and that I could always trade with starving students, tired of Macaroni and Cheese, the making of meals for all other chores.
In 1970, I was offered the chance to train to become a chef at the private school of an internationally renowned restaurant chain, after making supper for one of the major shareholders. It all started with a bet on whether or not I could actually cook! This is the road not traveled.
Then, in 1974, I married. Our initial agreement was that we would take turns making meals, and whoever didn't cook would do the dishes. Sound familiar? Well, about a year into that, my wife "tried to poison me with a salmon loaf", as I so lovingly put it. This led me to offer to do all of the cooking, which only increased my responsibility and interest in fine cooking, now a lifelong passion.
My credo? "Much of what happens in the kitchen, whether you are kneading bread or boiling an egg for breakfast, depends on chemistry and science. Success in the kitchen relies on a basic understanding of how and why things happen, of ingredients, and of the terms and techniques used in cooking. This knowledge, combined with the artist's talent, is what makes great food."
I have long been the "Go To Guy" amongst friends and colleagues, and sometimes even total strangers, who wonder what went wrong in a recipe, or how to make a technique work. My extensive knowledge of food, gained from years of hands-on experience, curiosity and research, and a sensible attitude to ingredients, is now available through the KitchenSavvy blog site.
And yes, after over 40 years, I am still happily married, the Dad of two wonderful kids and 'Zeyda' to two equally wonderful grandsons!