At the end of January, Pat and I enjoyed an Eastern Caribbean cruise leaving from Ft. Lauderdale, Florida.  After our travel fiasco of last April, we decided to play it safe and give ourselves an extra day for unplanned interruptions.  That ended up giving us an extra day in Ft. Lauderdale before the cruise, which we used to wander around Las Olas Boulevard.
We ended up at Pan'e Dolci Italian Bakery three times.  First was just a stop on the way by to see what they had.  After a brief look, we went next door to Big City Tavern for a late breakfast, and then back to Pan'e Dolci for gelato to enjoy while we wandered Las Olas.  Yummy gelato made without the additives too frequently found in North America versions.  Reminiscent of our first trip to Florence.
Then, after a few hours of wandering, back to Pan'e Dolci for a taste of the beautiful desserts we had seen on the first stop.  My apple tart was nothing short of a masterpiece - Pâte Brisée with a layer of pastry cream, topped with thinly sliced apple arranged in a rose pattern, lighly glazed and topped with a few berries.  Put that with a cup of perfect espresso, and you have a wonderful afternoon treat.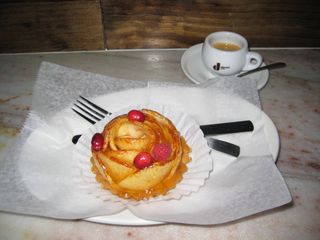 Of course, there were other pastries -- strawberry and fruit tars, cannoli and more - but the apple tarts were so pretty, trays of them, that I couldn't imagine the labor to make so many.  I knew immediately what I had to try. 
Pan'e Dolci Italian Bakery
613 E Las Olas Blvd.
Ft. Lauderdale, FL 33301