On a recent vacation to Paris, I thought it might be fun to take a cooking class.  My wife, Pat, loves to paint so it would also be a chance to get out of her hair while we each did something that interests us.  The problem, though, is that I don't need someone to teach me how to make Beef Bourguignon, or Tarte Tatin.  Those I make at home regularly.  So began the search for something new and interesting that I either didn't know or wasn't likely to be able to pick up and do if I wished.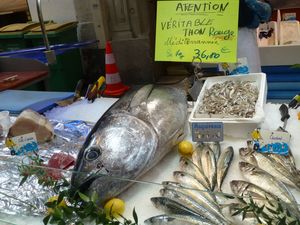 After a bit of scratching around, I came to the idea of taking a class on how to make macarons, one of the many pastries you see all over Paris.  Something that would be fun, that might be challenging to just pick up and do without some hands-on demonstration, and that I am not likely to just get inspired to try some weekend.  A quick Google of "macaron class Paris" only yields about a quarter million hits.  It seems that teaching tourists to make macarons may have become a mainstay of the Paris economy.  Carrying on undaunted, more scratching led me to the Cook'n With Class website.  Why choose that one?  Because their site showed energy, enthusiasm and professionalism that I hoped would be reflected in the lesson.  And so, I decided to sign up for their Macaron Class in Paris. 
Another class that caught my eye was a Morning Market Cooking Class.  This was our fifth trip to Paris, and we have been to Provence a few times, too.  On some of those trips we had cooking facilities, but I had always been a bit shy about food shopping, since I wasn't sure of the etiquette, or how to buy some items like meats or cheeses.  Also, I once got seriously scolded by a clerk at a cheese store for picking up the cheese I wanted to buy.  It kind of put me off wanting to shop.
So, I had my plan - a market class, more to learn about shopping in the markets, and a macaron class.
The market class was taught by Chef Brian Defehr.  Chef Brian was formally trained in Chicago, and worked in restaurants and hotels and as a private chef for twenty years, including owning his own restaurant in southern France. 
We gathered early in the morning at a Metro station nearby the Cook'n With Class location and visited local cheese, fish, meat and produce markets.  These were local shops, not the regular open air markets that run in various locations in Paris, although what we learned would be equally applicable there.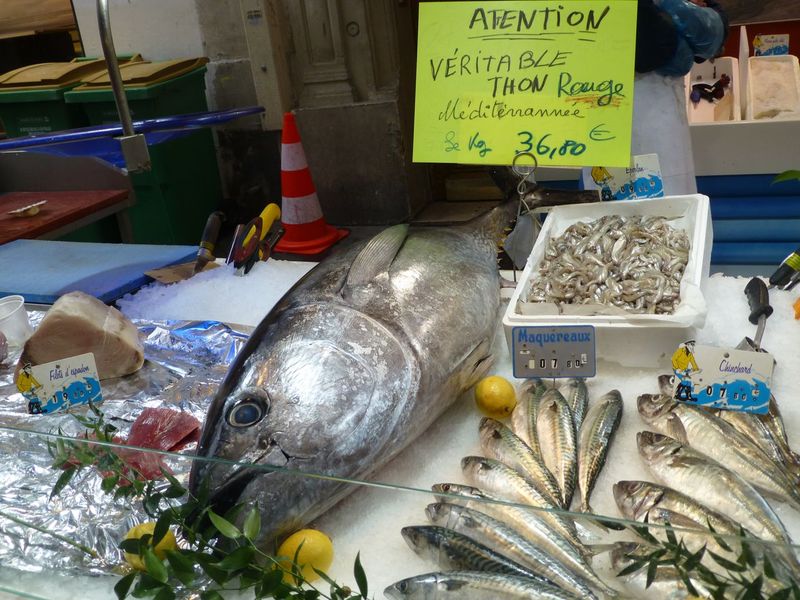 Probably most interesting to me was the cheese vendor, where I learned a lot about how to understand the layout and content of the shelves and how to select cheeses based on age and season.  And I found out why I got that scolding.  Since cheeses in France are not all wrapped and sealed away like they are back home, when you touch them, bacteria from your fingers can contaminate the surface.  And if you put it back, you could end up contaminating even more.
We were lucky enough to find a Mediterranean Red Tuna at the fish mongers.  It is not often come by, apparently.  The owner told us that he might get two of them in a year.  That one fish cost him nearly 1,000 euros and we had him break it down so that we could have some to cook for lunch.  The class members almost felt guilty being the first customers to ask that he cut apart such a beautiful fish, but someone had to.  Otherwise he would have watched some very costly inventory spoil.
At the meat shop we debated what to cook.  Being a chilly morning, we gravitated towards a hearty stew, waffling between Beef Bourguignon or a Cassoulet using some of the delicious looking confit duck legs they had.  I would have been happy with either, since I had already achieved my objective of learning how to shop in the markets, but thankfully we settled on the Cassoulet, so I could learn something new.  Our menu, driven by what we chose at the markets, was seared, nut-crusted tuna with braised leeks and wild mushrooms; Cassoulet; a cheese course and creme brûlée with caramelized apples.  I learned how to shop at markets and how to prepare a couple of new dishes, and everything we made was delicious.
Chef Emmanuelle Gombert taught the macaron class, where we made blackberry, pistachio with white chocolate, and passion fruit with milk chocolate macarons.  As I expected, there were lots of tips and tricks that were easier learned 'hands-on' than I might have learned by trial and error, making it very worthwhile to have taken the class.  The results were delicious.  Pat was happy to help me finish of the 16 or so that I took home.  Especially the pistachio ones.
For both classes, everyone had a chance to contribute to the preparation and cooking of each dish, but the results were all communal.  For example, while I did every step in making the macarons, there was no single macaron for which I could claim to have done every step, but I probably did some part of every one of them.  That is simply the reality of this kind of class, so if you are thinking you will make your own batch of 200+ macarons, be prepared to play well with others.
If you are considering taking a cooking class during a visit to Paris, Cook'n With Class is most definitely worth checking out.