One presentation trick I really like is food served with a soft cooked egg so that when the yolk is pierced it becomes part of the sauce for whatever is underneath.  Restaurant Sorza, 51 rue saint Louis en L'Ile, Paris, serves a dish they call "oeuf poché, confit de tomates"  or "poached egg & confit of tomatoes" that uses this idea.  This is my take on that dish.  Served with some baguette, it makes a light lunch for three or four, or dinner for two.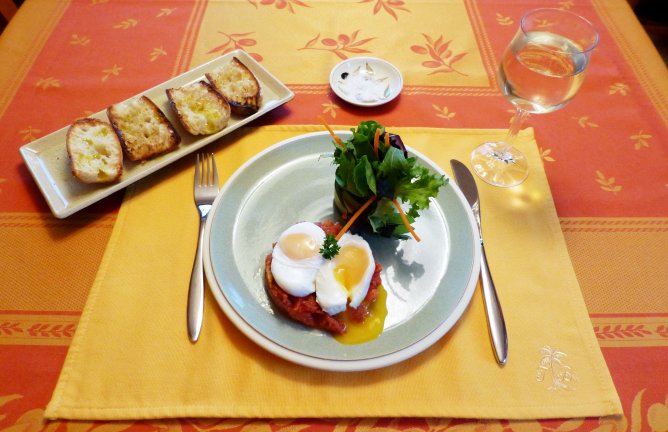 Oeuf Poché sur son Lit de Tomates (Poached Eggs on a Bed of Tomatoes)
| | | |
| --- | --- | --- |
| 6 |   | Plum Tomatoes, concasséed |
| 4 | tbsp | Sun-dried Tomatoes, drained and chopped |
| 2 | tbsp | White Balsamic Vinegar |
| 1 | tbsp | Fresh Lemon Juice |
| ⅛ |  tsp | Salt, or to taste |
| ¼ | tsp | Fresh Ground Black Pepper |
| 4 | tbsp | Olive Oil |
| ¼ | tsp | Ground Herbe de Provence (see Note) |
| 3 or 4 | lg | Eggs |
 Combine all of the ingredients except the eggs, and store in a non-reactive bowl in the refrigerator for 2 hours or overnight.  The taste should be slightly acidic, as the egg yolks will help to balance the flavor as they mix with the tomatoes.  If desired, add more olive oil to taste.
Prepare one poached egg per person for a lunch portion, or two for a main dish.
While the eggs are poaching, use a slotted spoon to divide the tomato mixture among plates.  If desired, save the liquid for a dressing for an accompanying salad.
Using a slotted spoon, remove the eggs from the poaching liquid, gently pat dry with a towel and place on the tomatoes.  Sprinkle on a bit of salt and pepper, if desired.
Serve immediately.
A Note regarding Herbe de Provence - as I have said previously, traditional Herbe de Provence does not contain lavender, which is likely an affectation for the North American palate.  To make your own mixture at home, combine equal parts of dried thyme, marjoram and savory, basil and/or oregano, plus half as much dried rosemary, or more to taste.  Grind in a spice grinder or with a mortar and pestle just before use.