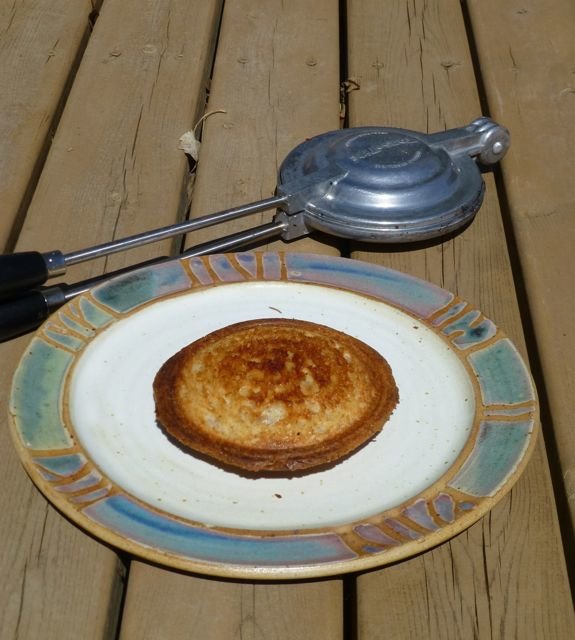 When I was a kid, we used to make these wonderful bush pies.  For those who don't know what a bush pie is, it is a sandwich made by compressing to pieces of bread, with filling in the middle, in a device which compresses the edges and which you then heat over a fire to toast the outside while heating the interior at the same time.  My all time favorite filling was peanut butter.
The bush pie maker we had was shaped so that the pies came out looking like little toasted flying saucers.  If you got it right, the edges where the two slices of bread had sealed together was crunchy.  Inside the peanut butter would have undergone a magical transformation.  Where it was closer to the bread, it would have become firm and almost fudge-like while the middle was molten hot.  Of course, you could always wait a few minutes to let it cool down a bit, but it was a bit of a dare for me to see how soon I could get to the molten center without it being to hot to eat.
When my parents downsized their home, I got those bush pie makers and enjoyed making them with my own kids until one day the things disappeared.  I searched for them everywhere and, when I couldn't find them, I searched the internet for replacements.  There were lots of imitators, but none that would make those perfect, round, flying saucer bush pies of my childhood.
Enter Toas-Tite.  These folks have produced an authentic replica of the 1949 sandwich toaster of my dreams, packaged in a retro box complete with reprints of original instruction and recipe booklets.
You can fill them with pretty much anything.  The recipes include meat pies, chicken pies, bologna, grilled cheese, apple pie and even pirogi!  Or you can make up recipes of your own.  Add a piece of chocolate to peanut butter to make Reese's Pies.  Make a Bush Pie 'Monsieur' by filling it with ham, Gruyère cheese and some Dijon mustard.  Tuna melt? Tuna, mayo, salt pepper and Swiss cheese.  An 'Elvis'? Peanut butter, mashed banana and crumbled bacon.  The combinations are endless.
Next stop, family week up at the lake (typical Saskatchewanian, saying "the lake", like there is only one!) and introducing my six-year old grandson to the joys of Toas-Tite Bush Pies. I can hardly wait!