This bright, colorful salsa pairs well with grilled salmon, steelhead trout, shrimp or other seafood.  It can be complemented with the addition of diced avocado.  The white balsamic brings together the sweet taste of the mango with the acidity of the lime juice to create a perfectly rounded flavor, and the hint of Thai pepper leaves a pleasant burn in the aftertaste.
To roast the corn, remove the silk and the husks, rub lightly with olive oil, and grill it on your barbecue for about 20 minutes, turning every 5 - 10 minutes so that the kernels start to darken.  If you prefer, you can remove the silk only, pull the husks back over, tie with a string and then dip them in cold water before grilling, in which case the kernels don't darken as much, but they pick up the taste of the scorching husks.
If you don't have a barbecue, remove the silk and husks, rub lightly with olive oil, and broil in the oven for 15 - 20 minutes, turning occasionally.
After the corn is roasted (or broiled), use a chef's knife to shave the kernels off of the the cob.  Hold the corn point down against a cutting board, and use the knife to cut downward, removing the kernels from the cob.  One large ear should yield about ¾ cup if corn.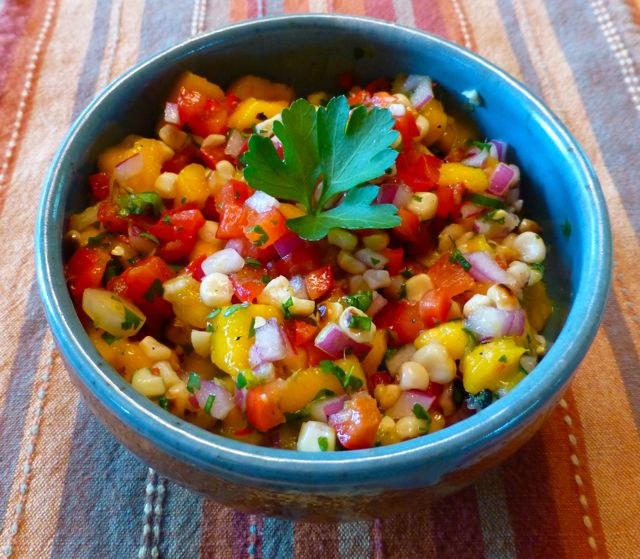 Mango and Corn Salsa (Serves 4-6)

| | | |
| --- | --- | --- |
| 1 |   | Mango, diced |
|   ¾ | C | Yellow Corn, fresh (roasted), canned (drained), or frozen (thawed) |
| 1 |   | Lime, zest and juice |
| 1 | Clove | Garlic, grated |
|   ½ | C | Diced Red Onion |
| 1 | Small | Red Pepper, diced |
| 3 |  Tbsp | Chopped Cilantro, loosely packed |
| 1 |  Tbsp | White Balsamic Vinegar |
| 1 |   | Thai Red Pepper, seeds and membrane removed, finely diced |
|   |   | Salt and Pepper to taste |
Combine all of the ingredients in a non-reactive bowl.
Cover and refrigerate for at least one hour to macerate.
Taste and adjust seasoning, if needed.