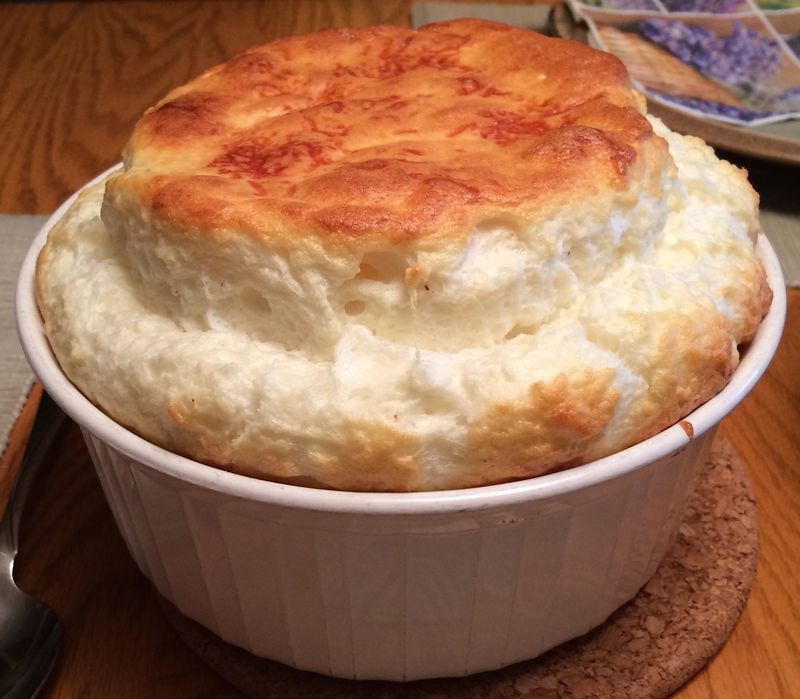 Despite its reputation as being the hallmark of a skilled chef, a beautiful cheese soufflé is surprisingly simple to do, takes very little effort, and wows dinner guests.  And, contrary to popular myth, you don't need to tiptoe around the kitchen while it is baking.  Just don't slam the oven door or choose then to practice your jumping jacks.
This recipe is done in four easy steps -- prepare a casserole dish, make a cheese sauce, beat egg whites and fold together with the cheese sauce, and bake.  Like all soufflés, it should be served immediately, since it will start to collapse within a few minutes, as the air bubbles inside starts to cool.
Cheese Soufflé

For the Prep

| | | |
| --- | --- | --- |
| 1 |  tbsp | Butter, room temperature |
| 1⁄4 | cup | fine breadcrumbs |

For the Cheese Sauce

| | | |
| --- | --- | --- |
| 3 | tbsp | Butter |
| 3 | tbsp | All-purpose flour |
| 1 | cup | Milk, cold |
| 1⁄8 | tsp | Onion powder (optional) |
| 1 |  sm pinch | Ground cloves (optional) |
| 1 |  med | Bay leaf (optional) |
| 1⁄4 | tsp | Salt |
|   | pinch | Fresh ground pepper (preferably white) |
| 1 | oz | Parmesan cheese, freshly grated (about 6 tablespoons) |
| 11⁄4 |  oz | Swiss or Gruyere cheese, freshly grated (about 5 tablespoons) |
| 3 |   | Egg yolks |

For the Egg Whites

| | | |
| --- | --- | --- |
| 4 |   | Egg whites |
| 1⁄8 | tsp | Cream of tartar |
| 1⁄4 | tsp | Cornstarch |

Prep
Preheat oven to 350°F (177°C).
Using a piece of paper towel, or your fingers, spread the tablespoon of butter evenly over the bottom and sides of a straight-sided 11⁄2 quart casserole dish. 
Put breadcrumbs into casserole.  The breadcrumbs will stick to the butter.  Tilt and turn the dish until the bottom and sides are evenly coated with breadcrumbs, then dump out excess, if any.
Set casserole aside.
Cheese Sauce
Melt butter in a saucepan over medium heat just until it stops foaming.
Add the flour and stir in.  Reduce heat slightly and cook for 1 - 2 minutes, stirring frequently.  Do not allow the flour to brown.  Remove from heat and let rest for 30 seconds.
Add the milk, starting with about 2 tablespoons.  Stir to until smooth, then add 1⁄4 cup more.  Again, stir until smooth.  Add the rest of the milk, along with the salt and pepper, and stir in.
Return the saucepan to medium heat, and if desired add the onion powder, cloves and bay leaf.  Once the sauce starts to thicken, cook over medium-low heat for about 5 minutes, until it has about the consistency of Greek yogurt.  If used, remove the bay leaf at this point.
Off heat add both cheeses, reserving a tablespoon of the Swiss for topping if desired, and stir until the cheese is completely melted.
Stir in the egg yolks, one at a time, completely blending in each one before adding the next.  Stir until smooth.
Set aside.
Egg Whites
Place the egg whites into the very clean bowl of a stand mixer.  Using a balloon whisk attachment, mix on medium speed until they start to puff up and then add the cream of tartar and the cornstarch.
Continue to mix on medium-high until the egg whites form soft peaks.
Gently blend about 1⁄4 of the beaten egg whites into the cheese sauce to help loosen it then pour the cheese sauce into the bowl with the egg whites and carefully fold together until completely mixed.
Using a spatula, transfer the mixture into the prepared casserole dish. 
Tap the bowl lightly on the counter-top a few times to release any large bubbles that may be trapped.
If desired, sprinkle reserved tablespoon of grated Swiss cheese over the top.
Bake
Bake the soufflé for 25 to 30 minutes.  It should be nut brown on top when done.
Serve immediately.
---
KitchenSavvy Tip: Cookbooks recommend every possible combination of hot or cold roux (the flour and butter mixture) and hot or cold liquid.  If hot liquid is used, the starch in the flour will immediately start to swell and clump, whereas using cold liquid allows you to mix the ingredients together before the starch starts to cook.  Starting with a small amount of liquid lets you stir out any lumps more easily, since they move around less than if all of the liquid is added at once.  Worst case, if you still get lumps, strain the milk and flour mixture through a fine sieve before returning to heat.
KitchenSavvy Secret: The onion powder, clove and bay leaf add flavor layers that complement the taste of the cheese. 
KitchenSavvy Tip: If you use fresh bay leaf, gently crush it to help release some of the flavors before adding it to the sauce.
KitchenSavvy Tip: Never use a plastic bowl to whip egg whites.  Most plastics are lipophillic, meaning that they attract fat molecules.  Fat can keep egg whites from whipping completely so any fat that is on the surface of a plastic bowl can cause troubles.
KitchenSavvy Secret: The cornstarch adds a little extra body to the egg whites, which helps them maintain their fluffiness until the soufflé starts to set.