It all started with a plan to have Sloppy Joes for supper. 
For those not familiar, a Sloppy Joe is a mixture of ground beef in a tomato based sauce served in a hamburger bun.  You can serve it sandwich style, which can be very messy, with the filling oozing out over everything, or as an open-face sandwich eaten with knife and fork.  I prefer the open-face option, but that brings another problem.  Since hamburger buns have a rounded top, the part served on the top half of the bun tends to topple and dump the filling.  The solution, obviously, is a burger bun which is flat on both top and bottom.  Hence, the Flat Top Burger Bun: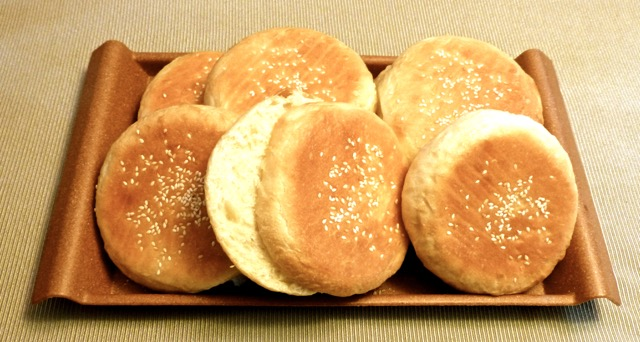 Flat Top Burger Buns - Makes 8 - 3 oz buns or 12 - 2oz buns
7
fl. oz
Warm Water
207
ml
1¼
tsp
Salt
6
g
3
tbsp
Granulated Sugar
35
g
1
tbsp
Powdered Skim Milk
8
g
2-4
 tbsp
Melted Butter (divided)
56
g
1
lg
Egg
3
cups
All Purpose Flour
358
g
1½
tsp
Instant Yeast
5
g
2
tsp
Olive Oil
10
ml
 
 
Sesame Seeds (optional)
 
 
Set aside the sesame seeds, if using, for later.  If sesame seeds are not being used, melt the larger amount of butter and set aside half (see step 8)
Place all of the remaining ingredients, except the olive oil, in order into the bowl of a stand mixer fitted with a dough hook, sprinkling the yeast over the flour.  Mix on low speed until all of the flour is blended in, about 1 minute, then increase speed to medium and mix 4 to 5 minutes more until a smooth dough is formed.  You may need to add a little more water or flour to get the desired consistency.
Turn the dough out onto a lightly floured counter and shape into a ball.  Drizzle the olive oil into the mixer bowl and put the dough back in.  Turn the dough over and around by hand until coated with oil.
Cover and let rise for 1 hour or until doubled in volume.
Prepare a baking sheet either by lightly oiling or covering with parchment paper.
Turn the dough onto a lightly floured surface, gently deflate and divide into 8 - 3 ounce pieces or 12 - 2 ounce pieces.  Shape each piece into a ball and place on the baking sheet.  When all of the pieces are done, go back and gently press them into disks, about ¾" (2 cm) thick.  Cover and let rise about 1 - 1½ hour, or until puffy.
While the buns are rising, preheat oven to 375°F (190°C).
When the dough is done rising, either spritz with water and sprinkle generously with sesame seeds, or brush the tops with reserved butter.
Cover with a second piece of parchment and place a baking sheet on top, or lightly oil the bottom of a second baking sheet and place on top.  Weight the second baking sheet with about 1 to 2 pounds (½ to 1 kg, see note).
Bake for 15 minutes, and then remove the top baking sheet and the second piece of parchment, if used, then bake about 7 - 10 minutes more until nicely browned on top.
Lightly brush with butter and cool on a wire rack at least 20 minutes.
Note - to weight the top baking sheet use something that can safely go in a hot oven, such as a small cast-iron frying pan, or a cake pan partially filled with water.  Do not use canned goods as they may explode.
When done, the 3 ounce buns should measure about 4½" (11 cm) across, while the 2 ounces one will be about 3¾" (9 cm).
As well as being good for Sloppy Joes, because of their shape these buns are good for panini, packed lunches, or Eggs Benedict.  A 1½ ounce version could even be used for sliders.
Enjoy!