My lovely wife was recently on a painting trip to Portugal, Spain and Morocco.  You can check out some of her watercolors here.  While in Marrakesh, she really enjoyed the Moroccan foods and returned home not only with some great new spices for me to play with, but also a request that I try making some Moroccan food for her.
My initial experiments were dismal.  Even if you are able to read a recipe and have a sense for it, sometimes that's not enough.  After trying a few tries at recipes from books I found at the local libraries, and getting feedback from Pat on what worked and what didn't, I started to get some idea of how the Moroccan food should taste.
To supplement my spices, I had gone shopping at a local store that has a wide variety of ethnic ingredients.  There I found green cardamom pods and cinnamon bark.  A soon as I smelled the cardamom pods, I knew they were going into something special.  They have a wonderful flowery note that black cardamom lacks.
Then one day I had some pork tenderloin which I thought would make a good tajine.  For some reason, I had it in my mind that I wanted to do a pork and pear combination.  After some searching, I found three recipes, each of which had something, but was missing something else.  There was a Moroccan pork recipe that didn't use a tajine or cook in that fashion, a pork tajine that didn't have pears, and a pork and pear recipe tajine that didn't use any of the spices that appear to be related to Moroccan cooking.  What to do?  The answer was obviously to combine the best of each of the recipes, put a little personal spin on it and see what happened.
The result is my Pork and Pear Tajine with Dried Apricots.  I make no representation as to its authenticity.  In fact, since Morocco is largely Muslim, I expect a pork tajine is somewhat of a travesty.
Enjoy.
Pork and Pear Tajine with Dried Apricots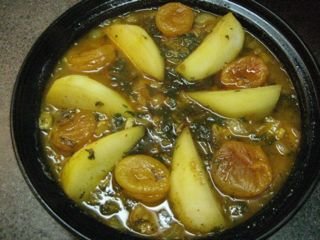 | | | |
| --- | --- | --- |
|    ¼ | C | Cilantro Leaves -- loosely packed |
| 1 | Tbsp | Flour |
| 1 ¼ | Tsps | Ground Cumin |
| 1 | Tsp | Paprika |
|    ¼ | Tsp | Salt |
|    ¼ | Tsp | Fresh Ground Black Pepper |
|    ¼ | Tsp | Saffron Threads – divided |
|    ¾ | Lb | Pork Tenderloin -- silver skin removed, cut diagonally into 3/4 inch slices |
| 3 | Tbsps | Olive Oil |
|    ½ | Med | Onion -- diced |
| 2 | Cloves | Garlic -- minced |
| 1 | Tsp | Fresh Minced Ginger |
| 1 | C | Chicken Broth |
| 2 or 3 |   | Green Cardamom Pods |
| 2 ½ | Inches | Cinnamon Bark -- or 1 small cinnamon stick |
| 1 |   | Firm Fresh Pear -- Peeled, sliced into six wedges with core removed |
| 6 |   | Dried Apricots |
Preheat oven to 325°F.
Set aside a few cilantro leaves for garnish and rough chop the rest.
Tie the cardamom pods and cinnamon bark together in a piece of cheesecloth so that they can be easily removed before serving.
Place the flour, cumin, paprika, salt and pepper into a plastic bag. Crumble in half of the saffron threads. Mix. Put the pork slices into the bag and shake to coat. Remove the pork from the bag, shaking off excess flour mixture.
Heat two tablespoons of olive oil in a sauté pan or stovetop-safe tajine dish over medium-high heat.
Cook the pork slices, turning once, until lightly browned on both sides. Remove from pan and set aside.
Lower the heat to medium and sauté the onion in the remaining oil, stirring frequently, for about 3 minutes.
Add the garlic, ginger and remaining saffron threads and cook about 30 seconds longer. Sprinkle any leftover flour mixture over the onions and stir.
Add the chicken stock and stir to thoroughly mix.
Return the pork to the pan, add the chopped cilantro and bring the mixture to a simmer.
If necessary, transfer the mixture to the base of a tajine.
Add the cinnamon and cardamom pods.
Arrange the pear wedges and dried apricots decoratively around the dish.
Cover and cook in the oven for 40 minutes, turning the pear wedges over after about 25 minutes.
When done, remove the cinnamon and cardamom pods and garnish with the reserved cilantro leaves.
Serve with couscous.
I don't recommend replacing the green cardamom with black, as the result will not be as tasty, and the back cardamom may overpower the dish.
If you don't have a tajine, the dish can be made entirely in an ovenproof pan with a tight fitting lid.