On our recent trip to France, Pat and I stayed at a lovely converted farmhouse just south of Avignon, called Mas St. Antoine, operated by Kerrin & Keryn Webster, who describe themselves as "Two kiwis making a life in Provence."  It was late September and their fig trees were covered with fruit ready to be picked.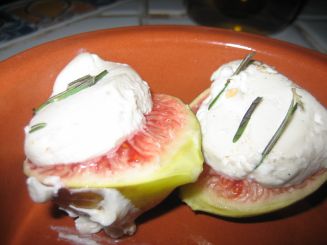 Kerrin suggested we top them with a piece of chevre and grill them on the barbecue.  The next day, we set out to find some nice, unripened chevre.  The Mas also had huge rosemary bushes, at least by Saskatchewan standards, four or five feet in diameter.  That night, we picked some figs, cleaned them, topped them with a slice of the cheese and then sprinkle on some rough chopped rosemary.  Onto the grill they went, over medium-high heat, for about four minutes.  The time was basically as long as my nerves would stand cooking them before I thought they might be burned on the bottoms.
To accompany the figs, we sliced some baguette, toasted it on the grill and then drizzled on a good splash of fresh olive oil.
What a wonderful appetizer, with the slight tang of the chevre balancing the sweetness of the fresh figs.